SAVOIR FAIRE FROG LUDENS
Here at LUDENS LABS there is method in our madness. We do not sell any coffee, toffee, raki, saki, biscuits, bread sticks, milk, tea and chocolates, it is up to the Frog Ludens, our kitty, to manage.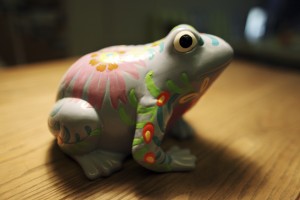 Actually, in the beginning, we did bring a percolator, glasses, spoons, knives, dishes, mugs, jugs and the rest from home – Haris brought the blue tin jug and we made into a flower pot but never leave it outside at night since the first one was lost. We then brought our froggy bank, the Frog Ludens and made a deal with it: each and every one of us who makes and drinks coffee, has some wine or nibbles while in the LUDENS LABS, will add a little something to the Frog. It goes without saying that we wash after us, right?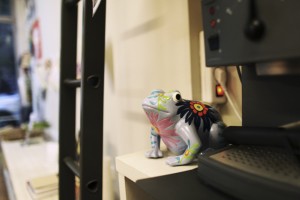 And so, once a month, we empty the Frog Ludens Βαnk and buy fresh stuff with the money collected. When supplies are over and Frog Ludens is empty, we send to Homo Ludens messages like the following: Frog Ludens is our kitty money/ he provides coffee, toffee, sugar, milk and more as long as there is money in his belly/ if we can't add money, we can bring our own coffee, toffee, sugar, milk and the rest.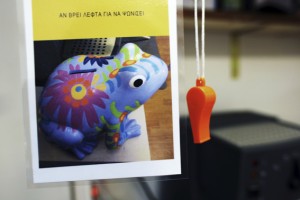 Of course, there are some Homo Ludens who instead of feeding the Frog Ludens, are feeding us with their goodies. These are placed in jars on the shelves for everyone to nibble in joy.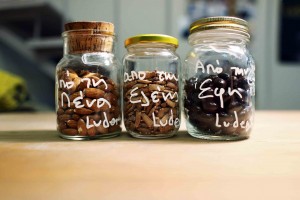 All wine bottles offered are left on the very top shelf and labeled according to their giver: Nikos' treat, Anthi's treat, Efi's treat, Katiana's treat, so that everyone will know who to raise their glass to. During the open gatherings such as: GROUP READINGS, , BIRTHING A WISH FESTIVAL, LUDENSZINE and more, the ENTRY at LUDENS LABS is FREE, while EXIT costs 5 euros for the FROG LUDENS – unless of course you bring with you a hot pan of treats or chilled raki, or anything you wish to share.