CREATIVE WRITING First Step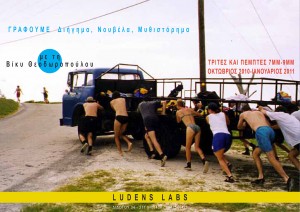 Creative Writing Game: working on our fiction-conundrum and unearthing lost classics in the hope of producing α challenging manuscript and a few more sensory observations on the writing adventure – despite rumours to the contrary, we don't think this adventure is open to everyone.
A Letter from Vici Theodoropoulou
It was the winter of 2007 when this idea came to my mind, that things can be done in a different way in a Creative Writing Lab. It was Shrove Tuesday and, with a long weekend ahead, there was one question asked over and over again. The answer to this question was the spark of my idea. Question: any plans for the long weekend? Answer: as-usual-we-will… And the majority of our company agreed. At this very moment my mind lit up like a confetti blast with the opposite of as usual: the like never before. It was a moment of joy as is the beginning of everything new. The paper napkin on which I scribbled as usual = like never before is still pinned opposite to my desk.
In 1938 when the famous Homo Ludens by Johan Huizinga was published for the first time I was not yet born. When the book was released in Greek in 1989, I was going through late adolescence. At that moment this guy, Homo Ludens, who creates civilization through play, marked me. And just like that, 18 years later, a whole winter was spent planning the Creative Writing Lab that was named "Closed Letter or Open Book?" and took place first in my home, then on the table of Vinyl Microstore at Didotou 34 and then at the other half of 34, in Dimitris' shop that sold thriller movies and closed that December so that we could take over the space and set up LUDENS LABS in 2009.
I don't care to count how many people have experienced the "Closed Letter or Open Book?" since then. Homo Logisticus is not my type after all. What I do care about is that this year we sail again on the adventure of writing which begins like never before and the journey lasts as usual three months and a half. Send us wishes. Send us applications as well, if you will. If against the odds we survive, it will be in favor of all Homo Ludens.
PS: Autumn of 2013, after four impressively optimistic years at Didotou 34, we had to leave our space for strictly financial reasons in order to save that bold venture Ludens Labs – praises don't pay the rent, my darling. Since then we operate as invited guests in several welcoming spaces in Athens. But we don't give in and we go on with joy and cheer and knowledge. More info and participation applications for "Closed Letter or Open Book?" at ludenslabs@gmail.com or at 6947544423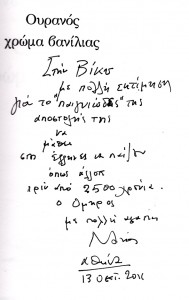 An interview with Vici Theodoropoulou April 2013
A lecture by Vici Theodoropoulou October 2013
An interview with Vici Theodoropoulou June 2012
Nanos Valaoritis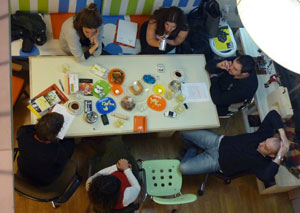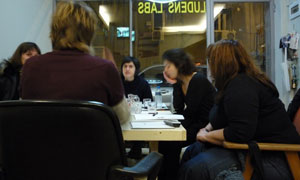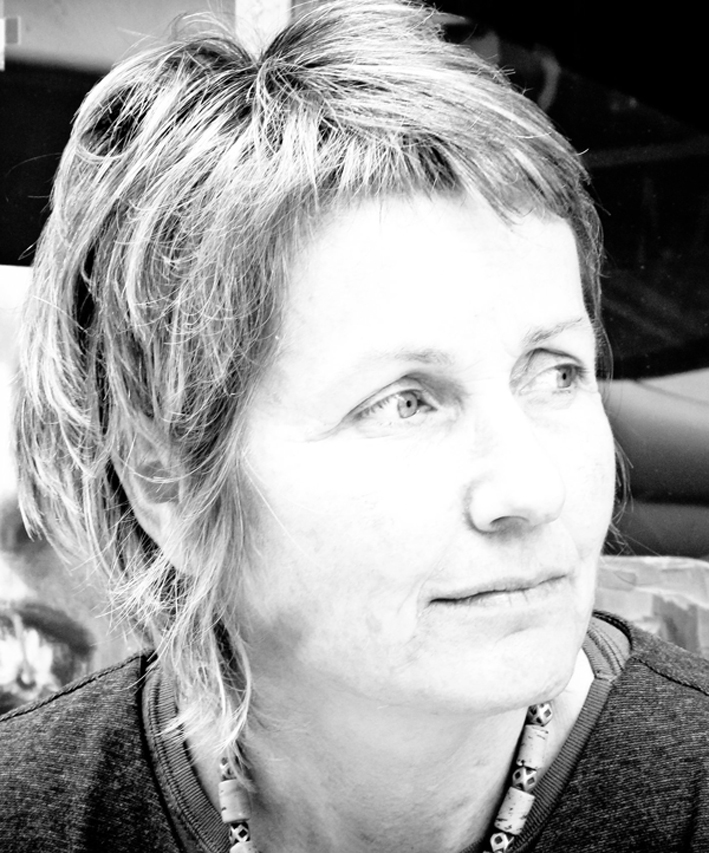 Vici Theodoropoulou
OCTOBER – JANUARY
FEBRUARY – JUNE
cost of participation 350 euro